Welcome to the KNIME Academic Alliance category!
Topics in subcategories are only visible (and, hence, accessible) to lecturers, faculty of higher education institutions, and researchers. Access is only granted upon a check of eligibility, which is usually carried out in a personal discussion with a member of the academics team. The idea for such a strict handling of access being that we want to create a place for you to share and discuss lecture materials, mini projects for students, and even exam questions.
Furthermore, we will use this category to announce new opportunities within the KNIME Academic Alliance. Since we don't want to flood anyone's inboxes with emails, it makes sense to drop by once in a while to see what is happening. If you want to receive notifications, you can also track updates in this category via the

button in the upper right corner just below your user avatar. You can, for example, change the settings to Watching First Post to get an email/notification upon creation of a new topic. In addition, you can adapt those settings for each topic that you are more interested in: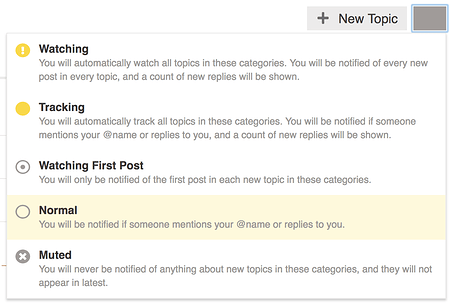 If you have any questions, don't hesitate to contact us at academia@knime.com!
Stefan Helfrich
– Academic Alliance Manager