Hi All,
I want to create a column based line id like above.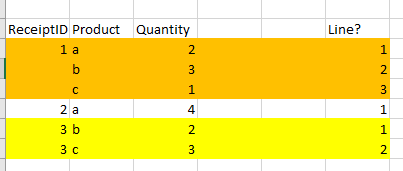 Is it possible?
Hi there!
Welcome to KNIME community forum!
I would use Rule Engine node as I believe there is some logic (which I do not see

) how you want to get these numbers in Line Column.
Br,
Ivan
I didn't care it but it can be sort by quantity like above.
Hi,
I guess you want to count the products in groups of "ReceiptID". If I'm right, then you can use a "Group Loop Start" node to loop over each group of "ReceiptID" and then a "Counter Generation" node to add the counter and finally close the loop with a "Loop End" node.
This gives the output you have asked for.
Best,
Armin
There is someone who can see the logic compared to me


Ivan
This topic was automatically closed 7 days after the last reply. New replies are no longer allowed.