Hi All,
I have a feeling that i'll need a loop for this. My challenge is easier described with an example.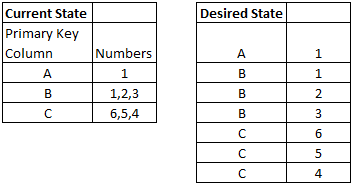 The way I get to it in excel is by doing text-to-columns > then adding a copy of the primary key column before each new column > then appending the new columns > removing all blanks > then concatenating the primary key column with the numbers column to remove duplicates.
In Knime, I have cleaned up the data and done a text-to-column equivalent using the Cell Splitter Node. Now I have to manually copy the primary key column and place it behind each new column before I append, remove blanks, and remove duplicates. The number of columns after a text-to-column are not set so that complicates things as well. This is why I have a feeling I need to use some sort of loop to do this.
Thoughts? Any help would be appreciated.