Dear users,
I'm working in finance and would like to summarize single accounts from a list to balance sheet positions. As we get information from many different ERP systems (lots of affiliates) I have to deal with differents naming logics.
In table 1 I have all account ranges (numeric+alphanumeric) identifying a balance sheet position:

At months end I get a simple account list from each affiliate: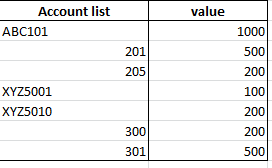 Now I need to assign the correct balance sheet position from my account ranges list. So I would like to add a third column to table 2 showing the balance sheet position.
Any suggestion?
Thanks in advance