Hi everyone,
I have a extremely weird problem with Autocomplete Text Widget Node. I have a workflow shown below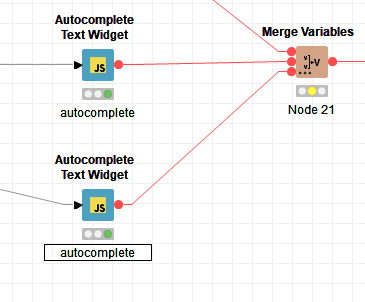 As you see, I am using two autocomplete text widget node for different columns of my data. When I merge the variables coming from autocomplete text widget nodes, I see just one autocomplete string input variables in merge variables like below.

I think that, the reason is the names of the variables generated from the nodes are the same. However, when I change the name of the one of the flow variables and connect the merge variables node, I see below

Actually, the value of autocomplete string input variables is not test, but it takes the other' s variables value.
Can anyone have idea about this issue?
Best,