Hi!
I have a workflow I'm trying to run via a batch file. It's been a while since I've done this (and haven't done it in KNIME 4.0), so maybe I'm missing something obvious.
This is my batch command:
"C:\Program Files\KNIME\knime.exe" -consoleLog -nosave -noexit -nosplash -reset -application org.knime.product.KNIME_BATCH_APPLICATION -workflowDir="C:\Users\80198655\OneDrive - Pepsico\KNIME_OneDrive_Workspace\cpr_automate_test" -preferences="C:\Users\80198655\Desktop\knime_info_log_prefs.epf"
I can see the workflow has completed, as the file has been written to the correct destination:

However, what I remember seeing when doing this previously was the last line on the consoleLog would give me a message like:
"BatchExecutor has finished running successfully" (or unsuccessfully)…
Instead, this is what I see: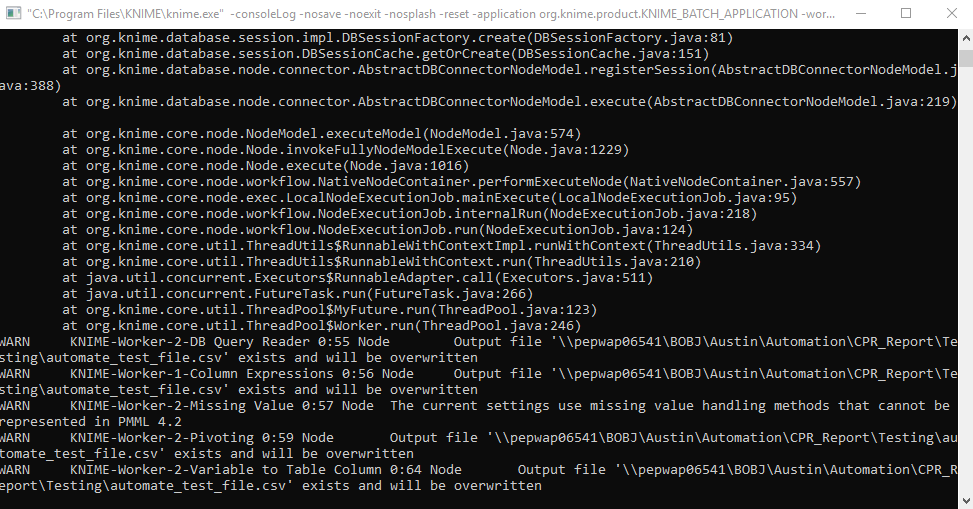 Not having the "finished" message isn't really an issue for me per se, since I know exactly where to check for the updated file, but for other users that might take control of this workflow at some point, I would like to have documented what the finished output should look like. An inexperienced user might not know whether or not the batch workflow has actually completed, and may terminate the batch too early.
Thanks for your help!