Dear Knimers,
Maybe this is a bug, maybe there is a reason for this behavior that I simply do not understand.
Consider the following table: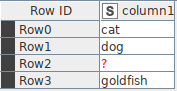 All the values in the single column of this table are obviously of type String.
However, when I apply the Transpose node on this table…


…Knime seems to be unable to figure out the type of column "Row2", even though it can only be a String. This can be a problem, for example when applying the Missing Value node on a table like this because it is not possible to set a Fixed Value on a column of unknown type.
Best,
Aswin
Edit: obviously it is possible to create a column with a missing value of type String directly with a Table Creator node: