Hi Knimers,
I plan to create a schedule job and I would like that this job call 2 others workflows.
The second workflow must be run only if the first job execution executed successfully and the third job must be run only if the 2nd job executed successfully.
So, I would like to know, if we can do it using using the "Call workflow action" option.
In fact could you confirm me that:
the calls are executed in a sequential mode and not in parallel (e.g. one at a time and not all at the same time).

"on succes" option refers to the job listed previously in the call workflow action list and not to the first job (e.g. that the "on success" option for the workflow(3) refers to the execution of workflow(2) and not to the main workflow see image below)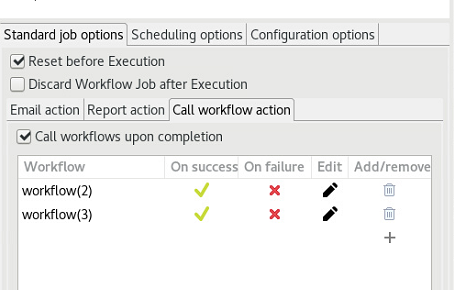 Regards,
Joel