Hi! I was trying to use scatter plot and get following error. Searhed for a solution in the forum and tried all suggestions. Checked for Chrome.exe in following directory and it was working fine. …\KNIME\plugins\org.knime.ext.chromium.bin.win32.x86_78.0.3904.87\win32\x86
Here is my current preferences and received error message. I would be glad if anyone can help me with this problem.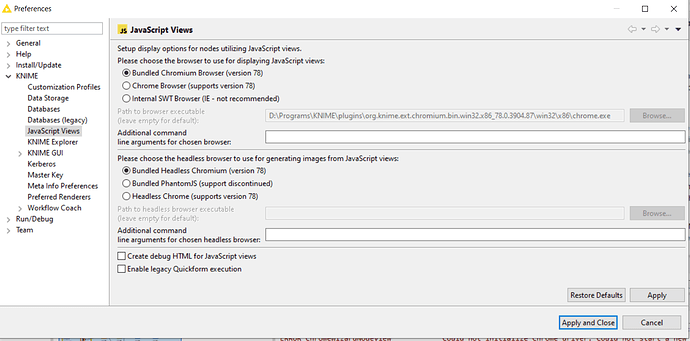 ERROR Scatter Plot 2:7 Retrieving image from view failed: Error retrieving image: Chrome driver was not initialized. Could not retrieve image.
ERROR ChromeWizardNodeView Could not initialize Chrome driver. Could not start a new session. Possible causes are invalid address of the remote server or browser start-up failure.
Build info: version: '3.12.0', revision: '7c6e0b3', time: '2018-05-08T15:15:03.216Z'
System info: host: os.name: 'Windows 10', os.arch: 'amd64', os.version: '10.0', java.version: '1.8.0_202'
Driver info: driver.version: ChromeDriver
ERROR ChromeWizardNodeView The interactive view cannot be opened for the following reason: Could not initialize Chrome driver. Check log for more details.
The browser can be configured in Preferences -> KNIME -> JavaScript Views