Hi all,
I working on a complex workflow and have just started using Case Switch - in the section of the workflow I am referencing here I have 4 different cases (each feeding to a separate metanode with different processing requirements).
Using the Case Switch, I am trying to determine which metanode (e.g. A, B, C or D) is the correct one to go to based on the PortIndex variable.
Note - this section of the workflow is part of a much larger Workflow (a huge loop) that I am working on. Only 1 metanode will ever be run on each pass-through.
Essentially, what I need to achieve is that in each metanode a sheet is appended to an excel file (if in active path) then, once that is completed, jump out to the outer loop to run another pass for a different task (i am still working on this outer loop but need to get the inner loop sorted first).
I am hoping to get some advice advice on the following please:
a) how do I end the case switches (I've tried end if too) when they are stacked in the manner that you can see in the screenshot?
b) I can't for the life of me figure out how to close this loop when I have 3 separate variable streams (i think) plus I don't actually need the data to be output from each metanode (as I hope to write to excel within each node (when active).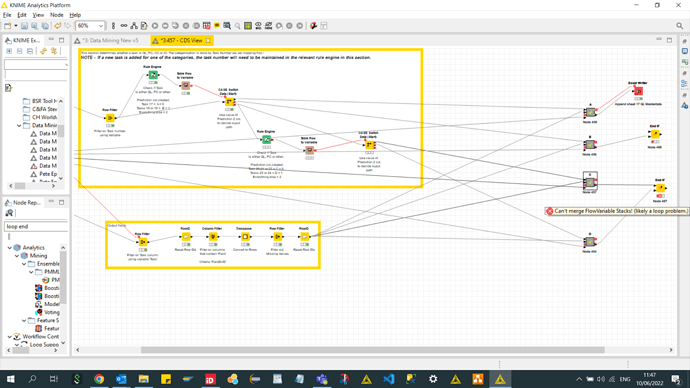 Thank you in advance for any assistance you can provide.
TP