HI All,
Need little guidance on how to proceed with the below problem.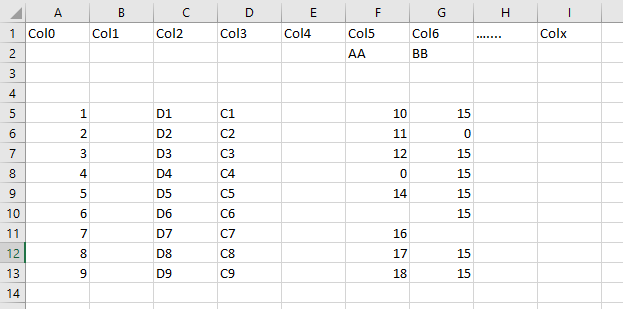 I have uploaded the image.
There are multiple columns as shown.i.e. Col0 ,Col1…
Need to filter out in a specific way based on code.
under Col5, there is code AA.
So i will filter out all the values in that column (excluding 0 and blanks) along with other column
So first ouput should look like (A5 to F till end… excluding 0 and blanks in F)
Then next iteration wll be value next to AA, i.e. BB.
Second output will be A5 to G till end…excluding F column and 0 and blanks)
then combining first and second output .
I tried using loop and all. But cant figure out to how to extract this properly.
I tried using multiple excel readers, to get the codes AA ,BB separately, then rest of table seperately. Then used loop to search AA and take out the rows but was unsuccessful.
Please suggest a better approach.