G'afternoon
Got another feature request. I've been using components and making composite views more frequently lately (they're super useful!). Although, responsive layout can be a little bit frustrating and there are a couple of things I think may make this easier.
When setting the ratio to 16:9 it doesn't seems to account one or all of the following when going full screen
Windows start bart
View window frame
Menu (reset, apply, close)
This results in a full screen plot going off the bottom of the visible space (needing to scroll down). So instead I just resize the window as big as I can without going full screen.
Another option is to set a max height (or width):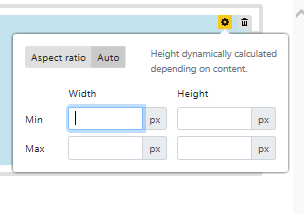 Though these are set via a pixel value. Would it be possible to have the option to set these values as a %? I think my problem would be solved if i could set the max height and width to 100%?
This would also make the components more shareable with people with different monitor sizes. I can orientate various components based on pixels but this is optimised for my monitor which although 16:9 at 1080p is fairly standard isn't the only format used in the company.
Or am I just doing it wrong and I can already achieve what I'm after?
I don't know what the implications of this may be within the web portal, would you need to define the max size of the frame?
Cheers
Sam