Hi all,
I am trying to create an Eclipse product configuration from the KNIME SDK. I intend to distribute my node extensions as a product so that users do not have to learn update sites and could just download it. In one of the extension nodes I work on, R bundles for 32 or 64 bit Windows are provided in the update site to facilitate the installation of R. Many, many experienced users fail to configure R in KNIME. I would like to create one product for each architecture so that the users could download a vanilla KNIME with the extensions and the appropiate R bundle and would not need to configure anything.
In the minimal example from the SDK setup I am just creating a product configuration file into an empty project (product) and initializing the product from the KNIME launch configuration.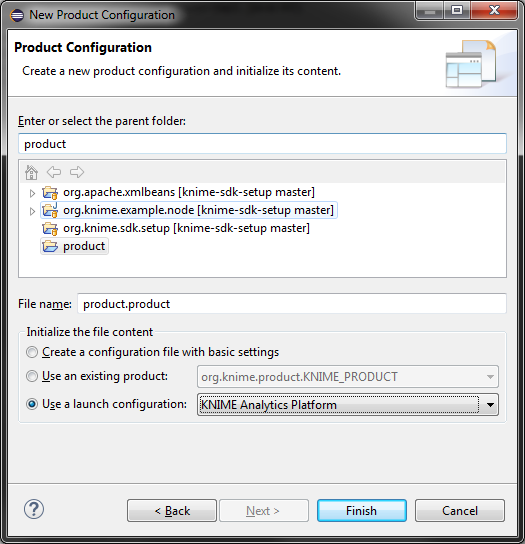 This creates a product file using KNIME Product and KNIME Application.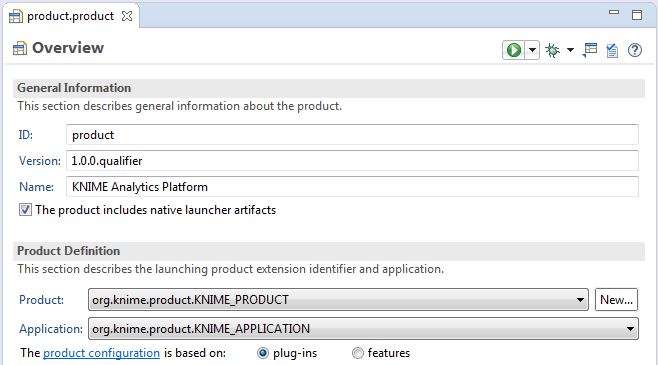 Unfortunately, I am getting errors related to missing KNIME Product. Even when I try to create a dummy product with the button New (second picture) many errors appear due to missing KNIME features which are added in the Contents tab of the product.
I am sure I am making more than a couple of errors here and would appreciate any help.
Lots of thanks,
Miguel