Hello, this is my first post.
I have a workflow and everything works fine, but today after a little adjustments the order in date is wrong.
In knime the date looks good, YYYY-MM-DD, but when I open the output file in folder looks like:
D/M/YYYY
This is the way how I visualize it in knime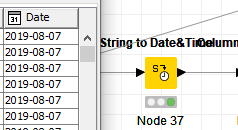 And this is the way how I see it in CSV

I almost forgot to mention, I use string to date already, and before that worked very well, I don't understand when its change.
Could anybody help me?