Hi,
I was very happy to find out that one can use MS Access databases without the MS Office 32bit/64bit problem but could not get it working, that is to say I cannot select the UCanAccess driver in the Database Connector node (see attached file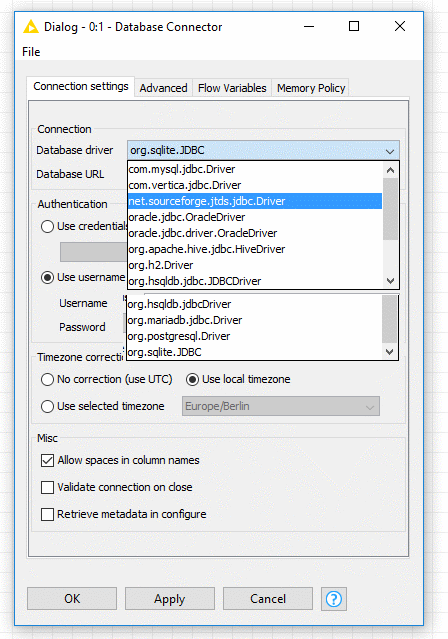 ).
Here is what I tried:
Download UCanAccess-4.0.3-bin.zip (from https://sourceforge.net/projects/ucanaccess/files/) and copy commons-lang-x.jar, commons-logging-x.jar, hsqldb.jar, jackcess-x.jar and ucanaccess-x.jar to a local dir and select these files in the "FIle->Preferences->KNIME->Databases" and add them (see attached file ).
Each of the 5 files is listed and there is no error in the log.
I also did 1 but added the whole directory.
I tried an older version UCanAccess-3.0.7-bin.zip and did the same as in 1.
I regularly restarted KNIME after adding or deleting the jar steps. I also created new workflows and added new Databases Connector nodes.