Hello,
I am currently trying to graphically evaluate a model. To do this I am recalculating my predictions on a time series that is stored in an SQLExpress Database. This table is read by an external visualization system.
My Workflow is reading the table from the database, then doing all the stuff that is needed so I can do predictions on the data. The resulting table is then formatted in a way that I should be able to overwrite my old predictions inside the database.


I am trying to do this by using the Database Update node (also tried the legacy version) which is configured as follows: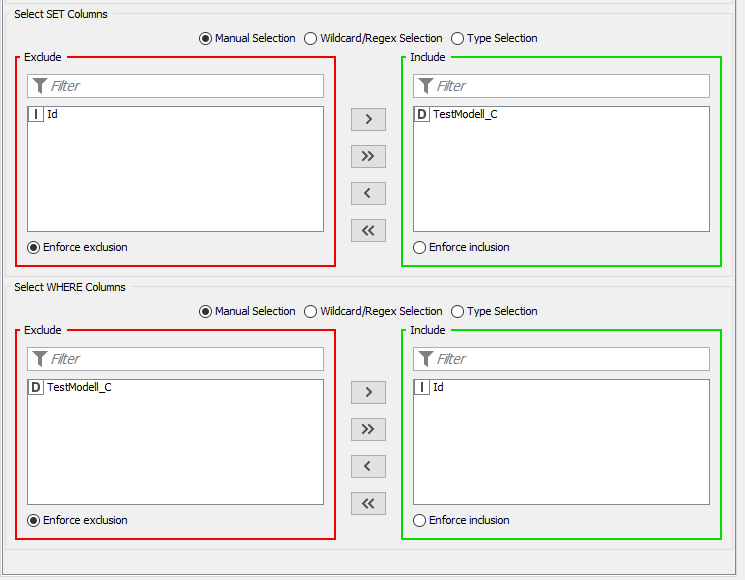 My problem is that this update ( ~15000 rows ) is taking very very long.
After about 30-40 minutes the update will crash at ~50% done because my disk is running out of space.
This is because while writing the updates to the database my tempdb ( TempDB is a system database in Microsoft SQL Server used as a store of internal objects, row versions, work tables, temporary tables, and indexes) will fill up more and more. Last time I let the update run it crashed after the tempdb had grown to about 160Gb filling up the remaining free space on my hard disk.
Things I have tried so far:
Shrinking both the database I want to write to and tempdb then retrying
Trying both the legacy and current version of the Microsoft SQL Server Connector Node and the Database Update Node
Increasing the Batchsize from 1 to 1000 (Database Update)
Restarting Knime
Resetting the complete Workflow
Restarting my system