Hi there,
I'm new to Knime and I was wondering if someone can give me some hints on how to achieve the below: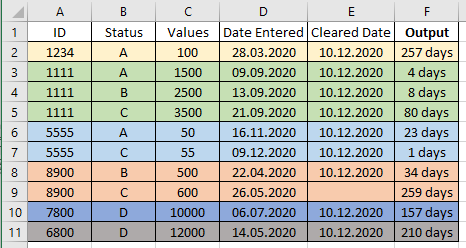 So I have the ID column which can have multiple records of the same ID, representing the statuses that it's been through. I am trying to measure the time spent by each ID in each status (number of days).
There are a couple of conditions:
For each occurrence of an ID, determine the no. of days by calculating the date difference using next row: Value[Index + 1] - Value[Index].
For example 1st occurrence of ID 1111: [Date Entered (row 4)] - [Date Entered (row 3)]

If it's only 1 ID record (e.g. row 2) or it's the last occurrence of an ID (e.g. row 5), check if Cleared Date exists and calculate [Cleared Date] - [Date Entered]. If the Cleared Date is missing, use the current date for calculation instead.
This is part of a longer analysis which I've made in Python… and now I'm required to convert it all to a Knime workflow so I just got stuck on this part.
Programmatically it seems easy, but I can't wrap my head around Knime nodes to achieve this, so I'd be thankful for any suggestions.