Hello,
is there a possibility do duplicate a row or rather multiply by a specific number from the table?
For example i have a table like this:


In the end it should look like this: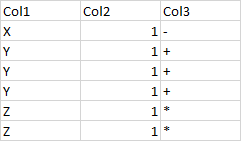 so the row should be duplicated as often as the factor in Col2 indicates and if Col2 is for example LIKE 2 there should be the same Row for 2 times.
It is important that the 2 should then be divided by itself in the output table. (Col2 must always be 1)
I hope this is reasonably understandable
Many thanks in advance.