Hello KNIMErs,
I have a problem with dynamic range in the GroupBy Node. I'm analyzing time series data. With a Rule Engine Node is mark some points of interest. The marks are randomized due to human interaction. What I want to group ist the event "to P" an aggregate the duration fo this event by sum of a column comming out of Date&Time Difference Node and Distance to Number Node.

To be able to group time series data I found the Exctract Date/Time Fields Node in the KNIME forum

. So, because of my time series data has a time step of 10ms I thought to group by minutes and seconds can handel my group by problem but it don't

Because of the randomized user interaction my marks I have to analyze can happen between to seconds shown in the next scrennshot.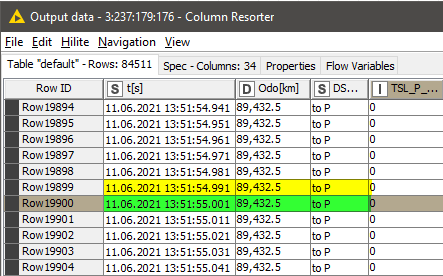 The sconds is changing from 54 to 55. This means that my result looks like this: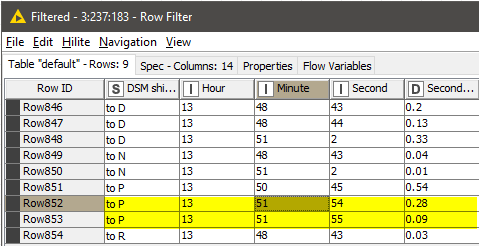 The correct result I need is the sum of "Scond" colum 0.28 + 0.9 = 0.37. To rise up the granularity dosn't solve the problem. Then I get the sum of every row

Has anyone of you an idea how to confugrate the GroupBy Node to get the sum of the "Second" column each time the "DSM…" column has the mark "to P" (or "to D", "to R" etc.)