Hello,
My workflow uses a parameter optimization loop to find an optimal set of parameter values, which are then fed to a different node to create a final model. Simple enough, but occasionally the optimization loop end throws an error that not enough candidates were found, etc. and the entire workflow stops.
In that case, I want to run an essentially identical optimization search except using a larger number of warm up rounds. I've tried numerous combinations of Try (Data Port) -> optimization loop node -> Catch Errors (Data Ports), but my attempted setup always has some type of error and doesn't run properly (or often at all). I've cut-n-pasted the node or inside components to hard-code the higher number of warm up rounds that I then connect to the second Catch Errors port, with no success.
Can somebody tell me how the setup should look? I suspect that will be easier than providing all the examples of what I've already tried as I've probably been doing something fundamentally wrong.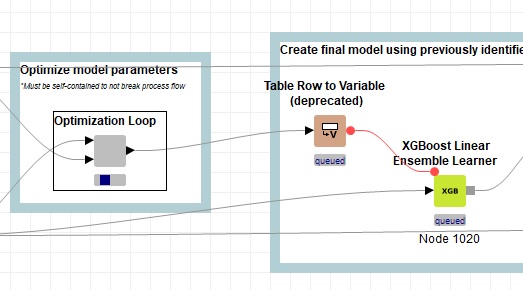 Above is the node I've referenced; the inside view of it is below.
Thanks in advance for the help.