Hi,
in some cases the new Excel Reader nodes have a strange behaviour with the number transformations.
If I have two columns: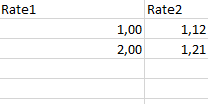 One contains only full numbers 1,2
The other also has decimals.
Then the transformation can cast the full numbers only to integer and long.
And the decimals only to double:



In my case I have a exchange rate column (which I set to double)
Now I have one file which contains only full numbers in the rate - and it cannot cast it to double and will fail
Not sure if that is intended - would expect it to be able to cast any number to any format?