I have a long history with Alteryx and have grown quite fond of Knime and its ability to take on very complex problems that I even struggled to do in Alteryx.
A feature I do miss from Alteryx is the ability to click on a node connector and see the data rather than going back to the original node. Sometimes the original node can be quite a distance away and I would like to configure Node "B" but see the data from Node "A"
Clicking on the output of Node A would show the same as clicking on the input of Node B. The data shown in the node monitor would reflect this click so that when I am configuring Node B, I can easily see the input data from Node A.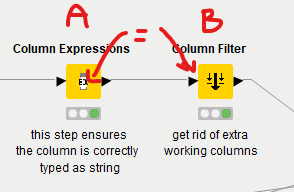 Thanks.