Hi there,
I encountered a problem with the feature selection filter: it filters different columns from what the feature selection loop end would suggest…
In my workflow, I am iterating with a feature selection loop (using the genetic algorithm) over a dataset in order to get the best adjusted R² in a linear regression (yes, if someone is looking for a way to get the adjusted R2 instead of the raw R² out of a regression, you can take this part of the workflow as template). In the end, I want to apply the best feature set again to a linear regression node, yet the selected columns do not match the corresponding features.
If you look at the list of features


hard and bar should be the first columns. But if you look at the filtered table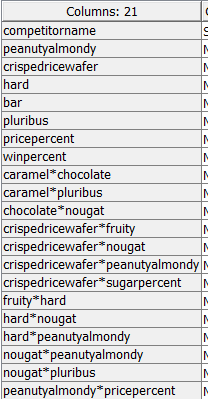 peanutyalmondy, crispedricewafer and other columns not in the feature list appear. Maybe I got a setting in the filter node wrong, but I really don't know where… Any hint will be much appreciated!
All the best,
Alec
Candy_Data_v4.knwf (414.5 KB)
By the way, the dataset comes from here: https://github.com/fivethirtyeight/data/tree/master/candy-power-ranking