Dear Knimers,
Consider the following table:


The output of the Linear correlation node looks like this:

How can I easily pick all the "Eagles" correlations? I could filter both the first and the second column and then concatenate them together, but then "Rabbits" and "Starbucks" names end up in different columns which makes life hard further down the line. To avoid this trouble, I very often end up doing this: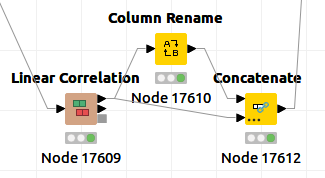 with the Column Rename node config:


Yielding:

Now I only need to filter the first column to get all the Eagle correlations, and the second column will contain all the correlation partners.
I therefore suggest to add an option "symmetrical output" to the Linear Correlation and Rank Correlation nodes.
(I know I could use a column filter on the correlation matrix, but that does not give me the p-value)
Best
Aswin