Dear Knimers,
the "Window Loop Start" currently has two modes: row-based and time-based windows. I recently found myself converting a numerical column that has nothing to do with time to a "dummy" Date&Time column just to be able to perform a Window Loop on this column. This was a rather cumbersome process: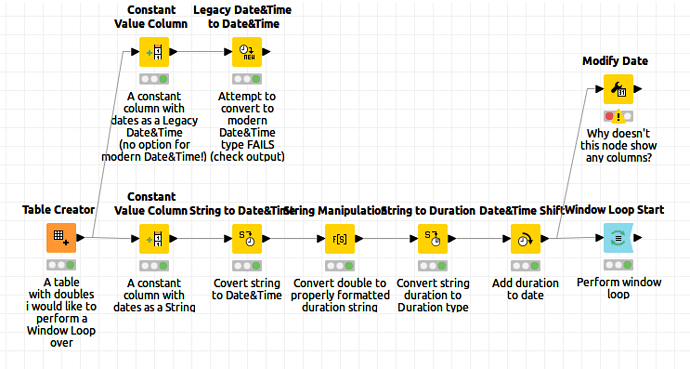 (Also note that the Constant Value Column node as of Knime version 4.3.4 can only produce Legacy Date&Time. Not only that, it seems to ignore the "time" part of the Legacy Date&Time. I also don't understand why the "Modify Date" node does not show any available columns even though there is Date&Time and a Duration column in the input).
I suggest a feature for the "Window Loop Start" node that takes a window of a regular numerical column. I know that I can do something similar with an "Interval Loop Start" followed by a "Row Filter", but repeatedly applying a "Row Filter" on a table with a few million rows is extremely inefficient.
Examples where a feature like this might be convenient:
A frequency window for looping through a spectrum
A molecular fragment mass window for looping through the output of a mass spectrometer
A distance window for looping through space junk in low-earth orbit
I am sure there are many more!
Best,
Aswin
KNIME_project23.knwf (28.9 KB)