Hello,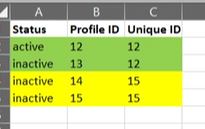 We are struggling to find a way to filter out, as in the example above, all rows with status "inactive" belonging to the same employee ID (column Unique ID). The example marked with green should stay.
We have tried the Rule-based row filter and the Group-by in multiple scenarios and couldn't find a solution yet.
Does anyone have any idea?