Hi friends,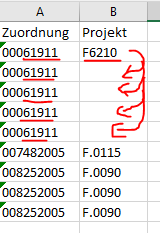 please have a look at my screenshot:
1.) I would like to enter formula that only applies to cells in column "B" which are empty
2.) if a cell in column B is empty, the formula should check if the value in column A in the same row, exists somewhere else in column A and put then the value of column B in the original cell.
So. e.g. in the Screenshot the 4 empty cells should be filled with the same value as B1, since they have they all have the same value in column A.
Also not sure with which node that will work, probably "column expression"?
Hope anyone could help me with that task.
Thank you in advance!
Best Regards
question_knime.xlsx (10.6 KB)