Hi there,
I would like to read 4 different Excel files, which have to be filtered in file specific different ways.
To start: I am listing the files with List Files. I use URL to File Path to extract the file names and String Manipulation to write the first 3 letters of the file name into a new column.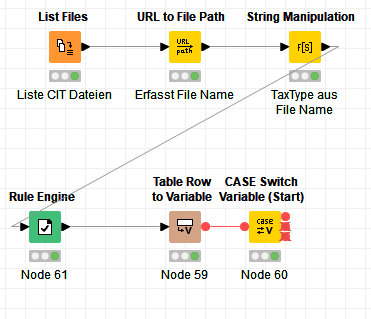 These 3 letters (ABC, DEF etc) shall determine the following workflow:
For the case of ABC, execute Workflow 1,
For the case of DEF, excecute Workflow 2 etc
Workflow 1 starts with an Excel Reader Node, followed by Row Filters, GroupBy,Excel Writer.

My problem (and question) is: How can I set up a rule, that for the case of ABC the Workflow 1 is executed and (in parallel ) for the case of DEF Workflow 2 is excucted?
I (without success) tried to insert Rule Engine, Table Row to Variable, Case Switch Variable (Start).
Thanks for helping, Thomas