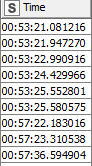 Hi @rifqi253, welcome to the forum
There are a few different ways to do what you're asking. The easiest might be using the substring formula in the String Manipulation node which takes the form:
substr(string,start,length)
In your case, it would be:
substr($Time$,0,8)
This topic was automatically closed 182 days after the last reply. New replies are no longer allowed.