Hello all,
I am currently trying to split a table into multiple tables. The tables are to be split according to calendar weeks, i.e. a table is to be created for each calendar week and so on. I know that Row Splitter or Rule Based Row Splitter can be used for this, however both of these nodes only have 2 output ports, so I need to build a lot of such nodes into my workflow to make this possible. I am sure there is a simple method in KNIME to ensure this. My table to be split looks something like this: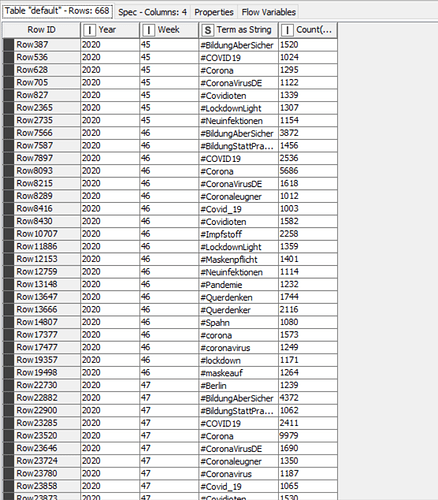 Note: There are not just the three calendar weeks, the table contains many more weeks. For this reason, I would like to know how the table can be divided by calendar weeks.
I would be very thankful if someone here in the forum could help me out.
Regards
hm1995