Dear All,
I am currently using the workflow developed by BBC Documents classification with BERT extension. I replaced BBC documents with my own data and trained the fine tuned BERT model. Upon here, everything works fine.
My question is: I actually want to use the fine tuned model to process a large amount of articles and generate predictions for every article. How would I amend the workflow to achieve this? I know this sounds not challenging at all, but, I am new to KNIME, so I look forward to see your help.
My initial plan as follows:
Perhaps I after trained Bert model, I can disconnect BERT PREDICTOR (btw, the disconnect botton turned grey and does not work) from the model. And I dock it with my own large dataset (stored as txt files, same as the uploading format of this model) at the front. After processing, I output the results with column appender or domain calculator? Will that work?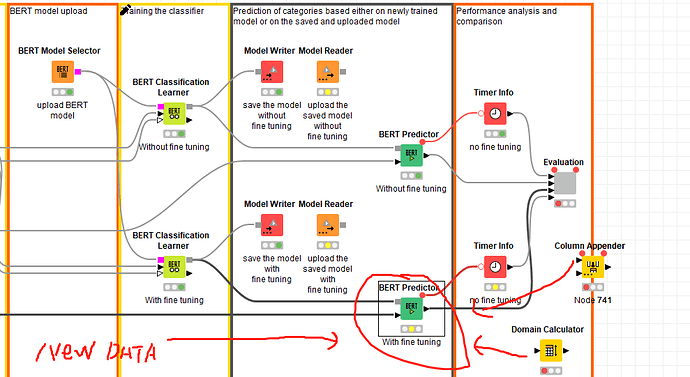 I sincerely thank you for any hints you can provide.