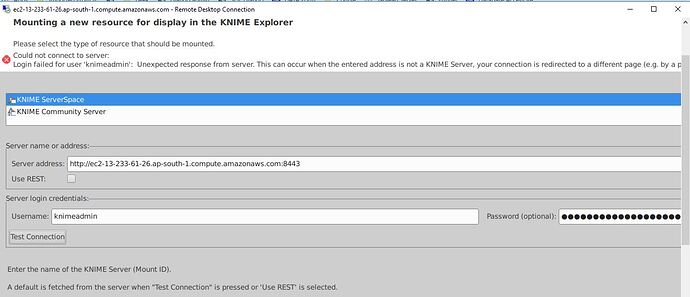 Hi team
I hope I am doing in the right way ??
I am doing on AWS knime server BYOL - I hope the server is installed already in this machine !!!
I downloaded knime an analytical tool on AWS server BYOL.
i get GUI for ubuntu to work around. - without gui in ubuntu can i work ob knime server ??
now i am trying to connect to mount id from knime client tool…
basically i want to bring my workflow here on aws machine AWS server BYOL and automate it !!
i have license file - where should i put it ??
does knime server have any interface ?? to automate workflow ?? how to get it ??
cant connect below addess ?
https://HOSTNAME:8443'
(https://HOSTNAME:8443 tomee/ejb
how to configure and where ??
help will be appritiated !! as we are new to knime.