The structure of this forum is pretty simple. The forum is divided into Categories, which are in turn divided into Subcategories.


Most of the activity in the forum happens in the KNIME Analytics Platform category, but that doesn't mean that every post should go in there. We do have Categories for Extensions, Resources, KNIME Server, Development and even a Job Board! Posting your question in the most appropriate category helps getting your question answered faster, makes it easy for others to understand what exactly your question is about, and it helps us keep the forum all nice and tidy

When writing your post, you will be able to select the category you want to post to in the Category list (orange square) and you will also be able to add tags to your post via the Optional Tags menu (blue square). Tags are a means of further organizing the content posted here and they help our helpers get a better view of questions that may be related to each another. We also really appreciate it when you all use the Bug tag when reporting bugs in the software.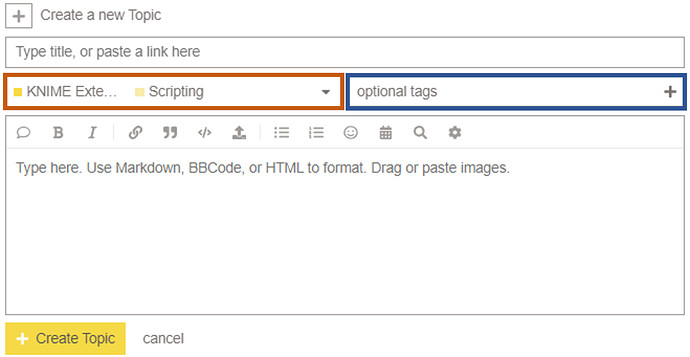 Take a moment to explore the forum, browse the different categories and see what's being discussed. You'll understand the forum better and you may learn a thing or two from ongoing discussions!