Greetings,
When I start Knime now, the splash screen appears as normal, but then after a bit I get the message An error has occurred - see the log file (in Configuration folder). Clicking OK on this dialog box closes Knime.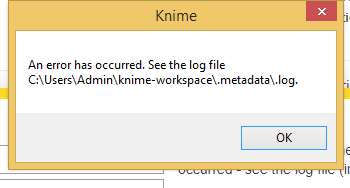 I was getting the message for installing updates which i ignored and had to reboot my system.
After the system restart when i tried opening knime received the above error.
Also tried changed the value of -Dequinox.statechange.timeout in the knime.ini to a higher value - from 30000 to 90000, but that also didnt work.
Log File :
log.txt (166.0 KB)
Regards
AJ