Hi community,
I tried to share a simple component and link it. But when I share and link another component, I cannot use it within the first component.
e.g. recreate this:
create a workflow
create two components (no matter where)
share and link both components (no matter how)
4 drag&drop one of the components into the other component
Now try either of the following:
within the first component, right-click the second component which you pulled into the first component. >> No menu is opening.
even if a menu is opening after 10-30 trails, there will be no menu for the component available, see picture below, linked green-arrow component without component menu.
save and re-open the first component, which holds the second component. It will always run into error, failing to update the integrated component as it cannot be found.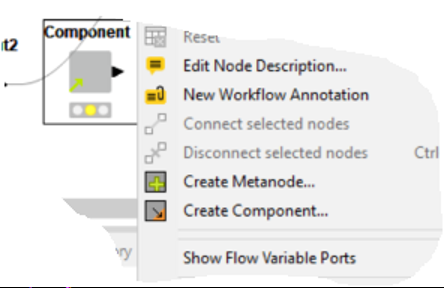 Question 1: Is that purpose or bug? No linked component within a linked component?
Questions 2: Is there a best practice for the following use case?
I call multiple times a database session, within a moderately complex workflow. Instead multiple times actually putting a copy of the note which calls the data base session, I want that within a lined component, so I can adjust PW and CREADTIALS if needed at one 'setting' place, but not at multiple places. I also do not think it is advisable to push the CREADENTIALS and PW via variables through the whole workflow.
This setting component is actually easy and works.
HOWEVER, THIS WOULD BE MY SECOND COMPONENT (from the example above), WHICH I WOULD LIKE TO INTEGRATE IN ANOTHER COMPONENT, WHICH FOR SIMILAR BUT OTHER REASONS I WANT TO LINK AS WELL.
But here I run into the error.
I hope I could explain well. If not, I am happy to specify.
Thanks
D