Dear all,
I would like to read my single cell image feature data from SQLite. I need to join the data from 4 tables from the database and then read them before I start with data analysis.
I used SQLite Connector and Database Table Selector to select several tables, Then used Database Joiner to join them, all worked perfect. However, I cannt read the final table with Databse Connection Table Reader, Error Message is ´´too many columns in result set``. I have altogether 2199 columns.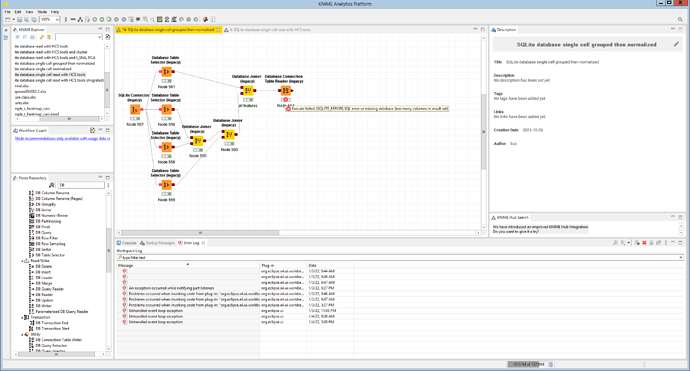 I can read single table with 1597 columns, but with very long reading time, which means the columns are too many.
I also tried to use DB Reader and DB Joiner, failed already at DB Joiner, give error ´´too many columns in result set``.
I also tried to read single table and use normal Joiner to combine the columns together, It run till 99%, then stop there for several hours, I also cannt cancel it.
Can somebody tell me what is the problem?
Thanks in advance.
Shu