Hi All,
I'm having troubles with MS Access connector trying to read a large MDB file (1.1GB).
The connector node keeps running for some time and then it crashes with a Java Heap Space error.
Seems that it´s trying to read the entire mdb file before passing the connection data to Table Selection node.
It´s 8GB RAM machine running KNIME 4.2.3 Windows 10 and the heap space parameter is set to: -Xmx4096m
The same flow runs Ok with smaller MDB files.
Here is my flow snippet: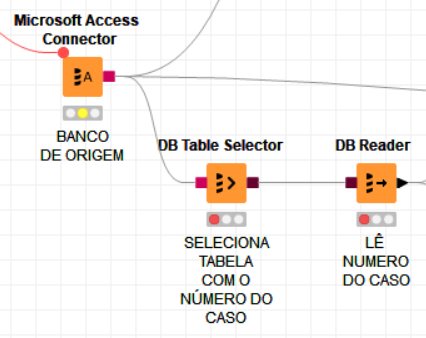 Following is the error log:
2020-12-03 11:43:33,015 : ERROR : KNIME-Worker-5-Microsoft Access Connector 0:84 : : Node : Microsoft Access Connector : 0:84 : Execute failed: Java heap space
java.sql.SQLException: Java heap space
at org.knime.database.util.Futures.throwDatabaseExecutionException(Futures.java:112)
at org.knime.database.connection.impl.DBConnectionManager.initializeConnection(DBConnectionManager.java:516)
at org.knime.database.connection.impl.DBConnectionManager.(DBConnectionManager.java:275)
at org.knime.database.session.impl.DefaultDBSession.(DefaultDBSession.java:226)
at org.knime.database.session.impl.DBSessionFactory.create(DBSessionFactory.java:81)
at org.knime.database.session.DBSessionCache.getOrCreate(DBSessionCache.java:151)
at org.knime.database.node.connector.AbstractDBConnectorNodeModel.registerSession(AbstractDBConnectorNodeModel.java:388)
at org.knime.database.node.connector.AbstractDBConnectorNodeModel.execute(AbstractDBConnectorNodeModel.java:219)
at org.knime.database.node.connector.file.FileDBConnectorNodeModel.execute(FileDBConnectorNodeModel.java:108)
at org.knime.core.node.NodeModel.executeModel(NodeModel.java:576)
at org.knime.core.node.Node.invokeFullyNodeModelExecute(Node.java:1236)
at org.knime.core.node.Node.execute(Node.java:1016)
at org.knime.core.node.workflow.NativeNodeContainer.performExecuteNode(NativeNodeContainer.java:558)
at org.knime.core.node.exec.LocalNodeExecutionJob.mainExecute(LocalNodeExecutionJob.java:95)
at org.knime.core.node.workflow.NodeExecutionJob.internalRun(NodeExecutionJob.java:201)
at org.knime.core.node.workflow.NodeExecutionJob.run(NodeExecutionJob.java:117)
at org.knime.core.util.ThreadUtils$RunnableWithContextImpl.runWithContext(ThreadUtils.java:334)
at org.knime.core.util.ThreadUtils$RunnableWithContext.run(ThreadUtils.java:210)
at java.util.concurrent.Executors$RunnableAdapter.call(Executors.java:511)
at java.util.concurrent.FutureTask.run(FutureTask.java:266)
at org.knime.core.util.ThreadPool$MyFuture.run(ThreadPool.java:123)
at org.knime.core.util.ThreadPool$Worker.run(ThreadPool.java:246)
Caused by: java.lang.OutOfMemoryError: Java heap space
at java.util.LinkedHashMap.newNode(LinkedHashMap.java:256)
at java.util.HashMap.putVal(HashMap.java:631)
at java.util.HashMap.put(HashMap.java:612)
at com.healthmarketscience.jackcess.impl.ColumnImpl.setRowValue(ColumnImpl.java:560)
at com.healthmarketscience.jackcess.impl.TableImpl.getRow(TableImpl.java:708)
at com.healthmarketscience.jackcess.impl.TableImpl.getRow(TableImpl.java:688)
at com.healthmarketscience.jackcess.impl.CursorImpl.getCurrentRow(CursorImpl.java:699)
at com.healthmarketscience.jackcess.impl.CursorImpl$BaseIterator.next(CursorImpl.java:822)
at com.healthmarketscience.jackcess.impl.CursorImpl$BaseIterator.next(CursorImpl.java:779)
at net.ucanaccess.converters.LoadJet$TablesLoader.loadTableData(LoadJet.java:829)
at net.ucanaccess.converters.LoadJet$TablesLoader.loadTableData(LoadJet.java:818)
at net.ucanaccess.converters.LoadJet$TablesLoader.loadTablesData(LoadJet.java:1007)
at net.ucanaccess.converters.LoadJet$TablesLoader.loadTables(LoadJet.java:1055)
at net.ucanaccess.converters.LoadJet$TablesLoader.access$3200(LoadJet.java:261)
at net.ucanaccess.converters.LoadJet.loadDB(LoadJet.java:1558)
at net.ucanaccess.jdbc.UcanaccessDriver.connect(UcanaccessDriver.java:218)
at org.knime.database.connection.UrlDBConnectionController$ControlledDriver.connect(UrlDBConnectionController.java:95)
at org.knime.database.connection.UrlDBConnectionController.createConnection(UrlDBConnectionController.java:308)
at org.knime.database.connection.AbstractConnectionProvider.createConnection(AbstractConnectionProvider.java:89)
at org.knime.database.connection.impl.DBConnectionManager.lambda$2(DBConnectionManager.java:501)
at org.knime.database.connection.impl.DBConnectionManager$$Lambda$1402/533676103.call(Unknown Source)
at java.util.concurrent.FutureTask.run(FutureTask.java:266)
at java.util.concurrent.ThreadPoolExecutor.runWorker(ThreadPoolExecutor.java:1149)
at java.util.concurrent.ThreadPoolExecutor$Worker.run(ThreadPoolExecutor.java:624)
at java.lang.Thread.run(Thread.java:748)
2020-12-03 13:29:25,961 : ERROR : main : : WindowsDefenderExceptionHandler : : : PowerShell command powershell -inputformat none -outputformat text -NonInteractive -Command Get-MpComputerStatus -ErrorAction Stop | Select-Object -ExpandProperty AMServiceEnabled did not terminate successfully.
2020-12-03 13:29:25,977 : ERROR : main : : WindowsDefenderExceptionHandler : : : Stderr is:
2020-12-03 13:29:25,977 : ERROR : main : : WindowsDefenderExceptionHandler : : : Get-MpComputerStatus : NÆo foi poss¡vel executar o m'todo extr¡nseco.
2020-12-03 13:29:25,977 : ERROR : main : : WindowsDefenderExceptionHandler : : : No linha:1 caractere:1
2020-12-03 13:29:25,977 : ERROR : main : : WindowsDefenderExceptionHandler : : : + Get-MpComputerStatus -ErrorAction Stop | Select-Object -ExpandPropert …
2020-12-03 13:29:25,977 : ERROR : main : : WindowsDefenderExceptionHandler : : : + ~~~~~~~~~~~~~~~~~~~~~~~~~~~~~~~~~~~~~~
2020-12-03 13:29:25,977 : ERROR : main : : WindowsDefenderExceptionHandler : : : + CategoryInfo : MetadataError: (MSFT_MpComputerStatus:ROOT\Microsoft…pComputerStatus) [Get-MpComputer
2020-12-03 13:29:25,977 : ERROR : main : : WindowsDefenderExceptionHandler : : : Status], CimException
2020-12-03 13:29:25,977 : ERROR : main : : WindowsDefenderExceptionHandler : : : + FullyQualifiedErrorId : MI RESULT 16,Get-MpComputerStatus
2020-12-03 13:29:25,977 : ERROR : main : : WindowsDefenderExceptionHandler : : :