I apologise for asking what may seem like basic questions, but I am a doctor and not trained in computer code and advanced software use, it is very high "price of entry"; exactly as high as the price of entry into working in the medical area and being confused by all the medical stuff even at a basic level.
Here is my problem. When I see a patient at each follow up clinic visit, I enter a contemporaneous evaluation of the clinical disease status for each individual cancer diagnosis. So each visit gets one entry per diagnosis. I end up with a spreadsheet with this follow up data:


I need to output from this spreadsheet a summary line for each unique patient/disease combination in a new spreadsheet. The logic for the returned entry is provided on the following image. To repeat it, each individual patient/diagnosis combination will have single entry for DATE and DISEASE_STATUS. The DISEASE_STATUS will be either NED (if there has been no recurrence, and the most recent DATE), or Recurrent (and therefore the DATE of the first Recurrence which is the censoring event).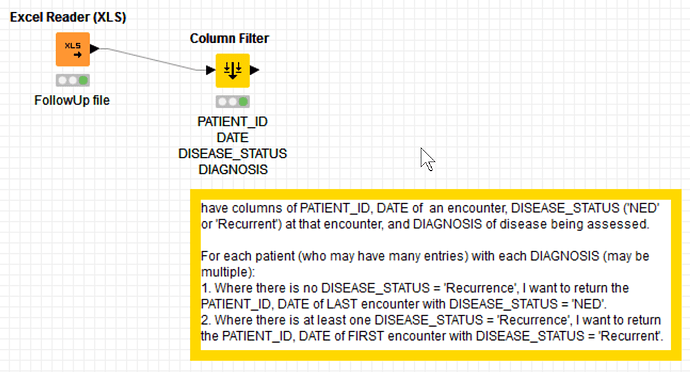 My difficulty is that unless I see examples of how to do this, the software is so opaque to me that I can't develop it myself. I understand that you may find this problem laughably basic, but it where I am stuck, and I am a sole medical practitioner working at the Informatics interface needing software help
(I feel like Julia Roberts in Notting Hill!! "I'm just a girl, …")