Hi KNIME and hi community,
The new excel reader nodes brought up two issues that have more or less quite some impact on our productive daily workflows in my department. Hence we stay with the old reader nodes for the time being, but here are the issues:
The reader brings up the message "Execute failed: The following row could not be converted to the specified KNIME types: …" and then lists every row entry with its type. This issue can be solved when unchecking the "Limit data row scanned":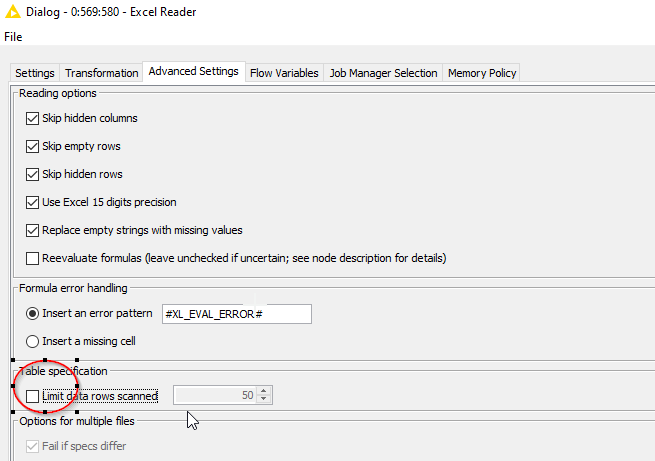 But of course that's is not too pleasant. With the generic selected 50 rows, it just doesn't work.
We are using SAP output from a SAP BW, and that is unfortunately an SAP problem, but in SAP you can select to show a key and a description for a column. What SAP does is, that the key column still has the original column header and the description column comes with no header at all.
In the old Excel reader world, this empty column would be named column 2, or whatever the position of the empty header column is. Now it seems that it is not the numeric position anymore, but the actual alphabetical colum from the excel universe. See screenshots below:
Old Excel Reader:


New Excel Reader:


The new Excel Reader, hence, will lead to several adjustments in column renames, or partly in our logic that we built around this SAP bug and followed the renaming convention of the old reader nodes. Is there a setting, that would allow the old reader node logic again?
Thanks for your support and keep up the good work!
Stiefel