OS: Windows 10
KNIME version 4.3.1
SQL driver: 6.0
Hello,
I'm having trouble getting Kerberos authentication to pass through to the 'DB Connector' Node.
I'm able to make a connection to the DB using the node not using Kerberos authentication. If I manually input my credentials within the node I'm able to connect: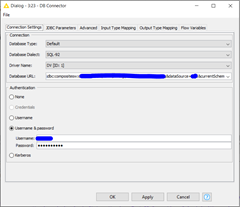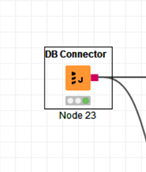 The connection string looks like so (actual info removed):
jdbc:compositesw:Server:port?domain=domain&dataSource=dataSource&currentSchema=currentSchema>
Connection is established.
Now using Kerberos:
I have Kerberos enabled and connected: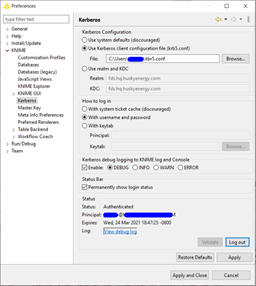 I adjust the node to user Kerberos: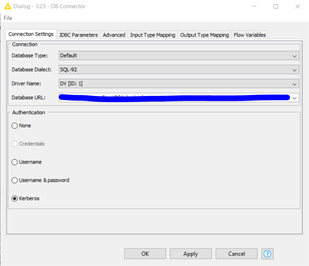 Attempting to execute, node fails with a 'Missing Password' message in the console.
After some research, I've tried adding some parameters to the connect string:
'……integratedSecurity=true&authenticationScheme=JavaKerberos&EncryptionMethod=ssl'
I've also tried adding these as 'JDBC Parameters' in the tab in the node. Neither approach has worked.
Any suggestions/ideas would be greatly appreciated.
Cheers,
Nick