I cannot open files where the path > 64 characters (on Mac, latest KNIME 4.4.0). Is this a know issue?
Hello @ssq,
You're saying that when you type a path with more than 64 char in this kind of field, you have an error, correct ?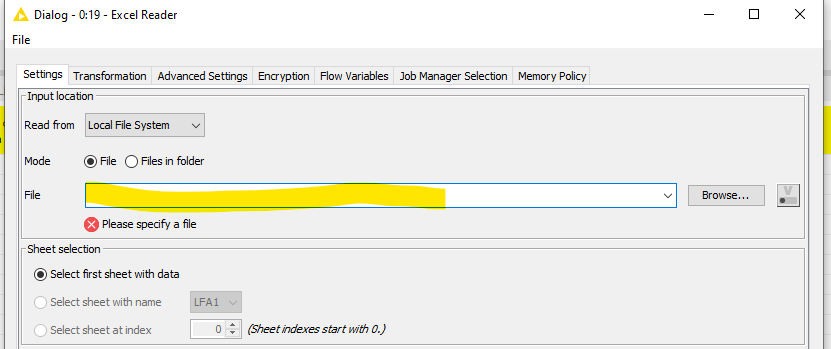 I tested it with 80 char and it works for me, maybe could you share the error message ?
Br,
Samir
No, not quite. In the same dialogue, I use Browse and navigate downwards in the folder hierarchy. When the path exceeds 64 (I counted), the it refuses (on click) to go further down.
@ssq,
Indeed, that is odd. I think it's not related to Knime but to MacOS.
In this external Mac forum, they are talking about nested folder limit of 64 nested folders or 1024 char long path :
Nesting Folders Limit - Apple Community
Sorry for not being able to help you.
Br,
Samir
But the file open dialogue is not Apple's, it's a java implementation in Eclipse, I understand.
@ssq, you are correct but as any other software it uses the operating system libraries, so it should have the same limit as the OS, as per my understanding. I'm not sure, I hope some Knime Team Member could reply you. But as you don't have any error message or log, they won't be able to help you. You are just blocked in the explorer. So it's tricky.
Br,
Samir
Indeed. But as a workaround I just moved my data files

of course it should work.
This topic was automatically closed 182 days after the last reply. New replies are no longer allowed.