Hello knime community!
For some time now we have been trying to connect to the HDFS and create spark context on our Spark cluster with the following workflow: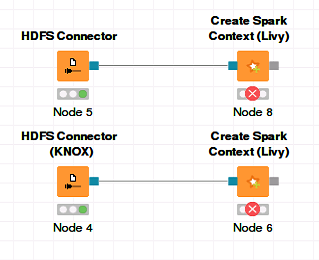 Connecting to HDFS with kerberos seems to work fine, using HDFS connector (webHDFS with SSL/HttpFS with SSL) or KNOX, yet the Create Spark Context node gives the following error:
ERROR Create Spark Context (Livy) 3:8 Execute failed: Failed to upload Kryo version detector job: Cannot retry request with a non-repeatable request entity. (NonRepeatableRequestException)
We found this error message in the KNIME update-site.zip > org.knime.bigdata.spark.core.livy.source_4.4.0.v202106241517.jar > LivySparkContext.java > 449. line
but couldn't find what is causing it.
Running the node creates the livy session ID and the workfolder on HDFS for it, but crashes right after.
We overcame a lot of different errors, but got stuck here.
Is this UseCase supported on the Analytics Platform?
Are we missing a configuration?
Thanks in advance!