Hello all,
i have encountered the following problem while trying to update my R Snippet nodes on my desktop pc and while attempting to install said node on my work station, both from

"No repository found"
Here is the error message from trying to reload the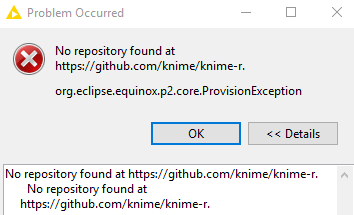 This is the error message from trying to 'update knime' and 'install knime extensions'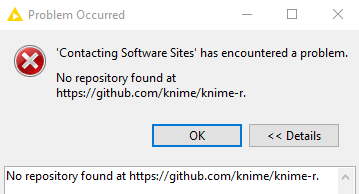 Here is the error message displayed while trying to install new software with the github update site.


Local KNIME Version 4.0.2
Local R Version 3.6.1
So far i have tried:
Fresh installation of KNIME and local R on a separate PC (the aforementioned work station).
Disabling and enabling the update site.
Removing and re-adding the update site.
Thanks in advance and kind regards
Leander