Hi
I have a few challenges with my python view note.
It was recommended to me and really worked well for that problem (Double y-axis). So thank you community
I have encountered additional challenges since then.
First, I get an error message, when I try to run my workflow on the portal. It runs fine in desktop KNIME.
It says "No display name". The full length of the error can be read in the end of this post.
Second, I can't figure out how to make dynamic colors and include legends to the python view. Right now I can only make each input type one color (atm. red and blue - with no legends)
I have unsuccessfully followed these guides:
I have attached shots of my workflow (so what comes after my python view, that is inside the line plot component) and the script in my python view.
Hope some of the more experienced members of this community can help.
If I have supplied too few information's, please let med know. Then I'll try to supply the correct ones.
Best regard
Bjarke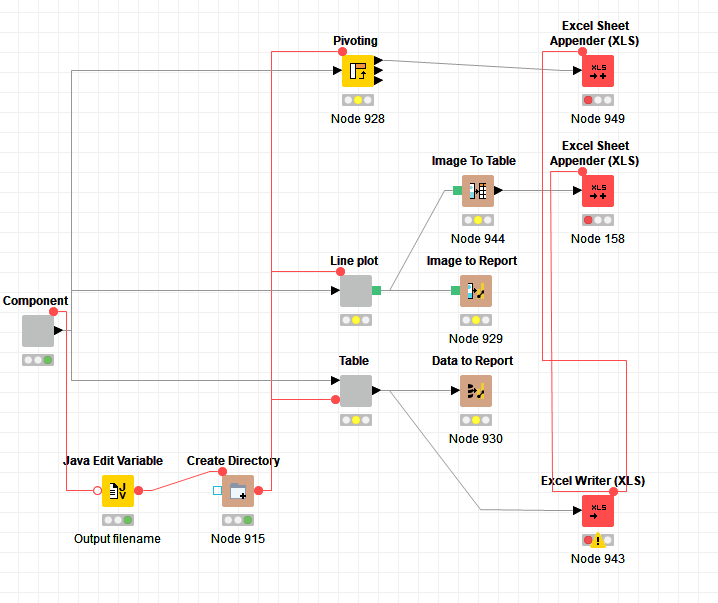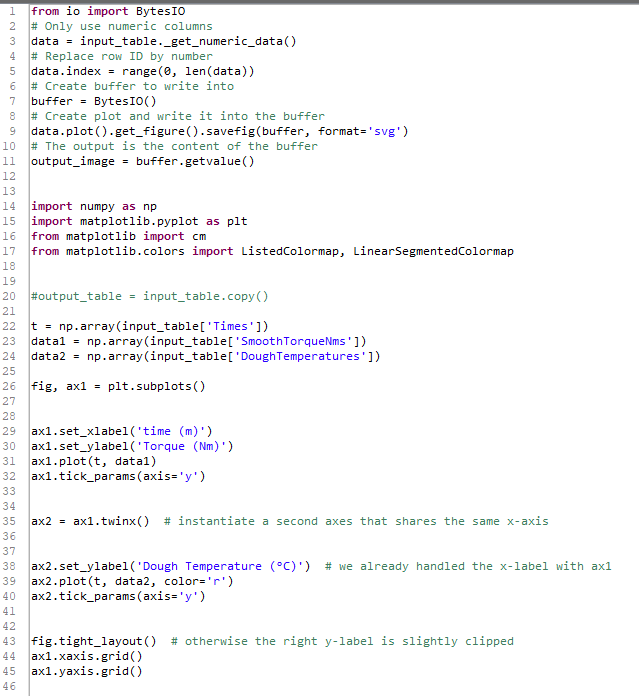 Full length error:
Execute failed: no display name and no $DISPLAY environment variable Traceback (most recent call last): File "<string>", line 9, in <module> File "/usr/lib/python3/dist-packages/pandas/plotting/_core.py", line 2677, in call sort_columns=sort_columns, **kwds) File "/usr/lib/python3/dist-packages/pandas/plotting/_core.py", line 1902, in plot_frame **kwds) File "/usr/lib/python3/dist-packages/pandas/plotting/_core.py", line 1729, in _plot plot_obj.generate() File "/usr/lib/python3/dist-packages/pandas/plotting/_core.py", line 251, in generate self._setup_subplots() File "/usr/lib/python3/dist-packages/pandas/plotting/_core.py", line 302, in _setup_subplots fig = self.plt.figure(figsize=self.figsize) File "/usr/lib/python3/dist-packages/matplotlib/pyplot.py", line 539, in figure **kwargs) File "/usr/lib/python3/dist-packages/matplotlib/backend_bases.py", line 171, in new_figure_manager return cls.new_figure_manager_given_figure(num, fig) File "/usr/lib/python3/dist-packages/matplotlib/backends/backend_tkagg.py", line 1049, in new_figure_manager_given_figure window = Tk.Tk(className="matplotlib") File "/usr/lib/python3.6/tkinter/init.py", line 2023, in init self.tk = _tkinter.create(screenName, baseName, className, interactive, wantobjects, useTk, sync, use) _tkinter.TclError: no display name and no $DISPLAY environment variable