Hello,
I'm trying to use the new Sharepoint nodes.
My goal is to list all the files in a given folder, filter out some of those files then loop through the selected files to read them with the new CSV Reader node.

The output of the List Files/Folders (Labs) node is a "P" type column I've never seen before.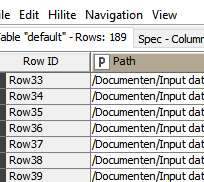 The problem with that "P" type column is that it is not getting converted into a variable with the node Table Row To Variable Loop Start. And the node CSV Reader node (labs) is expecting a variable of type P for the file path.

So the problem is that column of "P" type cannot be converted to variables. How can this be solved ?