Good day, I hope someone can help me with the following: when I have my file read by an Excel Reader and then have it written by an Excel Writer, I get the following.
As shown below, I would like to have a '0' added to the 'Paid' column when there is a decimal point in the order number, for instance, as depicted.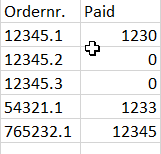 When there is no decimal number following the order number, I would like to keep what is currently in place. Can someone assist me with this?
Best regards,
Sten Alferink