Hey all,
I am a total beginner in using KNIME and hope to find some help here. I am having troubles with replacing a specific character in my string with a character given by a reference string. In detail: I want to replace all "N" in my text by the according letter (G, A, T or C) which is in the reference text at the same position, but all other letters should remain unchanged.
Here an example: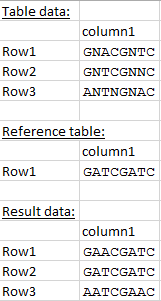 What I have tried so far is:
String Replacer - separate each letter of string with ,
Cell Splitter - split every letter in separate column by , as delimiter
String Manipulator - replace in split column every N with correct letter
It works in principle, but I have to do the String Manipulator for every single letter/split column and of course I have to determine the correct letter according to the same position in the reference by hand.
Is there an option to make this easier or without the need to address every single letter in my string in a separate step and to enter the correct letter manually?
Many thanks in advance for your help!
Best,
Meli