Hi everyone,
I have the dataset with the similar form as in the picture below. At the beginning I have only three column: Type, State1 and State2. I try to create the new column (State3) by using Rule Engine.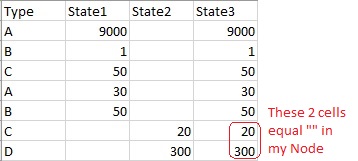 State3 will get value from State1 or State2 in case the value in State1/State2 is not Missing value. My expression is:
NOT $State1$ = "" => $State1$
NOT $State2$ = "" => $State2$
I could not find out why only the first row of expression can be executed. The results are showed, as State3 only recognizes non-missing values from State1.
Any help will be valuable to me. This is not the first time I work with Rule Engine, but its logic confuses me a lot. Is there any standard logic for this expression rule?
Thank you!