Your KNIME forum profile contains an array of information and configuration tools to personalize and improve your forum experience.
To access your profile, click on your profile picture and then on Summary

From your profile page, you will be able to get a good summary of your activity. Use the top navigational buttons to browse: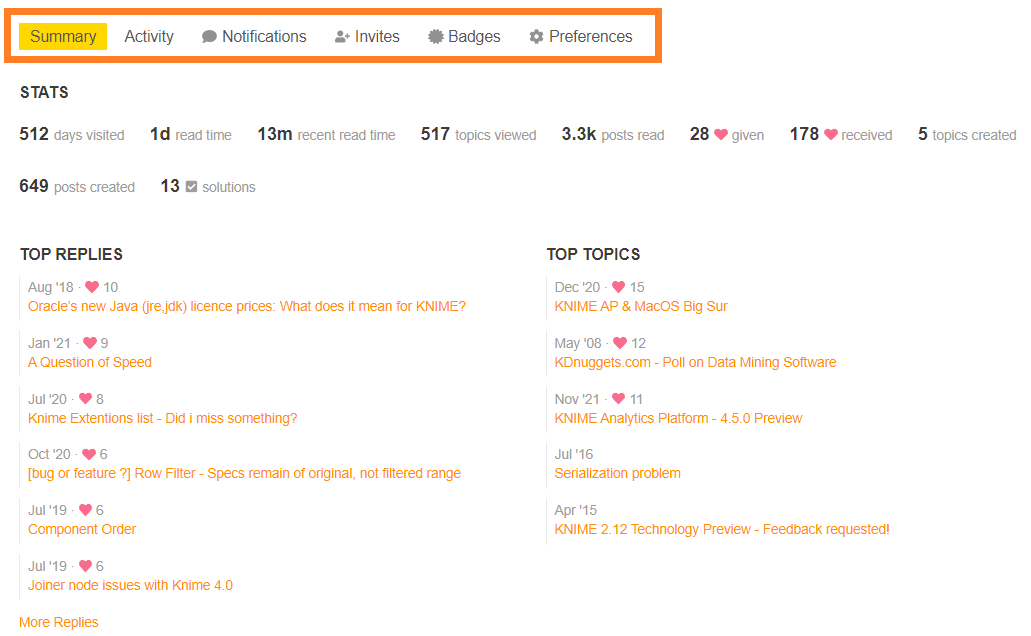 Here's what each button contains:
Activity: a detailed view of your activity (or another user's activity, if you're visiting their profile). Includes questions and replies, Likes given and received, solutions authored

Notifications: a list of notifications you have received related to your activity in the forum.

Invites: a list of invites you have received from other users

Badges: all the badges you have earned through your activity in the forums. The more you actively participate, the more badges you will earn.

Preferences: your personal configuration space. This is where you will be able to edit your profile, add your profile picture, bio etc. We recommend taking a moment to review your Email, Notifications (Categories, Users, Tags) and Interface preferences – they are your most powerful tool in ensuring you are notified of everything that interests you, and that you are not spammed with irrelevant info.