Hi @oole,
I am getting the following errors from the Java Snippets when running the 'Share Spreadsheet to Account' workflow:


The workflow successfully writes/updates the Google spreadsheet, but it does not get shared with the single email or list of emails. Thank you.
Best,
Haystack
Hi @Haystack,
For a simple fix, use this workflow, that I just now updated to work with KNIME 4.1: Share Spreadsheet To Account (KNIME 4.1)
You could also just copy the Java Snippet node from that updated workflow.
I hope this solves your problem! - Happy spreadsheet sharing
---
Some more background: In the Additinal Bundles tab you can see that some necessary client libraries are missing. We have updated the Google Client libraries we use for the Google Plug-In, which I also use in the Java Snippet node, and it seems that the naming of the bundles changed with that update: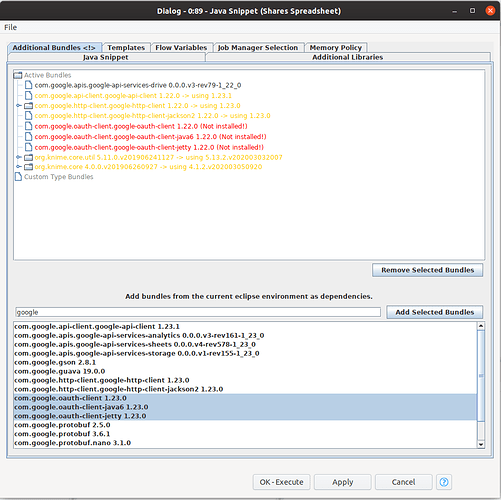 The solution is to remove the bundles that cannot be found and replace them by the updated bundles. Normally it should autodetect this kind of library update, but the naming change seems to break the autodetection.
Thank you, @oole! This worked great!
Best,
Haystack